PARKING ENFORCEMENT AND REGISTRATION
As of January 2018, Charleston Square has been enforcing the new parking decals for the community. In order to receive a decal, you must be current with HOA fees and special assessments, must have no outstanding fines, and may register no more than three vehicles per unit. To register your vehicle or to register a visitor's vehicle, please fill out the corresponding form below. The old yellow parking stickers are no longer valid.
​
If you do not have a parking decal your car will be towed after proper notice is given. The HOA is not responsible for towing cars in violation of the parking rules. As an owner or renter, it is your responsibility to familiarize yourself with the community's bylaws.
If your car was towed on our property, you should contact the towing company posted throughout the community.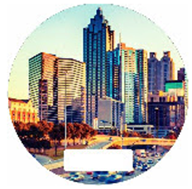 This is a photo of the parking decal. Each decal must be placed on your front windshield and must be visible from the outside of your vehicle. Please note that each decal number is specific to each vehicle and that forgery of decals is a fineable offense.

Your decal is not valid unless it is affixed on your windshield and the decal number is visible.
NEW: COMMERCIAL PARKING PROGRAM
Charleston Square's Board of Directors is excited to announce that it will be introducing a commercial vehicle parking program beginning January 1, 2019. The Board has received a number of calls from residents concerning the visibility of the street on Kingsport Drive because of the number of commercial vehicles on the street. Because of this, the Board has voted to allow unit owners that own commercial vehicles to park in a specially designated section of the community for a cost of $300 per year. This cost will go directly towards the maintenance and improvement of our community.The new designated parking spaces will be marked and prepared before January 1, 2019 and will be in the back corner of our property. Each owner wishing to register his or her commercial vehicle should reach out to the board to receive his or her specific parking spot assignment. Each interested owner should reach out as soon as possible because there are only a limited number of spots available per year. Additionally, each unit may register a maximum of 1 commercial vehicle. Each owner must pay for the parking spot per year for their parking privileges to apply. For instance, an Owner must pay the annual fee of $300 on January 1, 2019 if he or she wishes to continue parking in the designated spots. More information about payments will be available for unit owners interested in the new program.Please note that the same parking rules and regulations will apply to commercial vehicles. Specifically, each owner that wishes to park in the new designated parking spaces must remain current on their HOA dues and must not have any unpaid fines on their account. Failure to remain current on your Association account will negate any parking rights you have and your vehicle may be subject to towing.For more information about the commercial vehicle program or to sign up for the program, please complete the Charleston Square Commercial Vehicle Registration (find the link in the community newsletter or email us)!